Broadcast Sat., Feb. 1st, 10-11 a.m. Central (1500 GMT) on NoLiesRadio.org, archived here. Note: TruthJihad.com subscribers can listen to shows on-demand before they are broadcast - and also get free downloads! If you are a subscriber, just log in to the members area of TruthJihad.com and go to the "Private Blog" to get early access to the shows.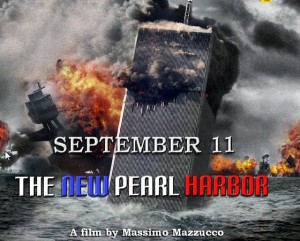 Guest: Filmmaker Massimo Mazzucco, whose film "
September 11 - the New Pearl Harbor
" (released last November) is the best and most comprehensive documentary on the 9/11 coup d'état. The film opens by looking at the many parallels between 9/11 and Pearl Harbor, systematically refutes the leading attempts by "debunkers" to patch up the official story, and marshals a strong selection of the best evidence that should convince anyone with two or more firing synapses that 9/11 was not just an inside job, but an utterly transparent and obvious one. Though Mazzucco's film is primarily designed to convince the as-yet-unconverted, even those who have been working on this issue for years will probably encounter new material. The high production values, careful research, and wide-ranging approach put this film in a class of its own.